12 Must-See attractions in colorado: A list of amazing adventures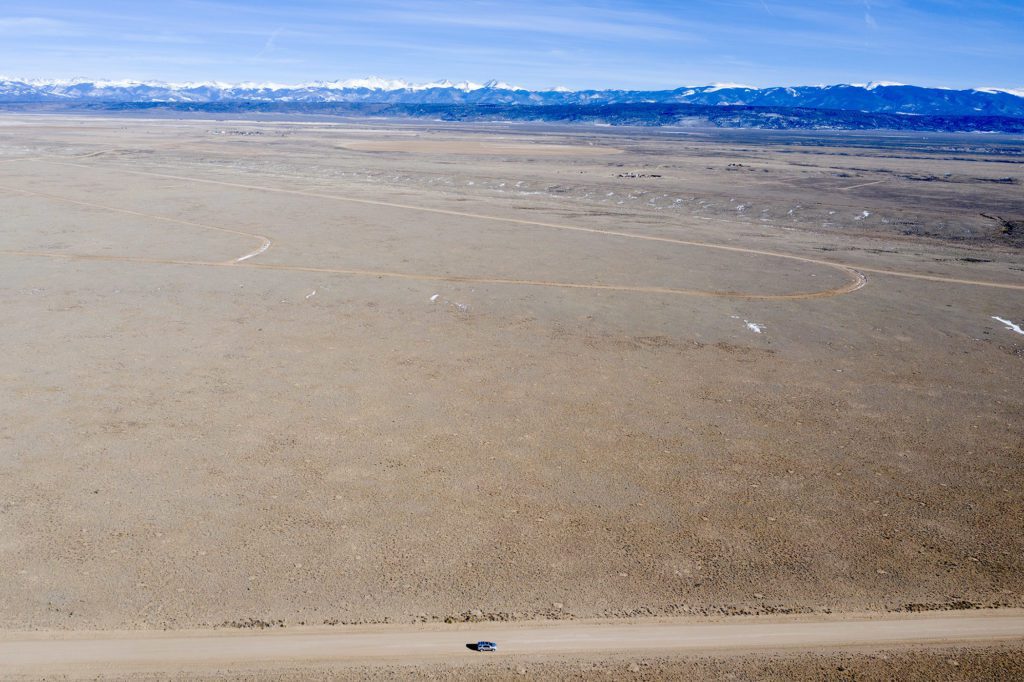 Colorado is the place to be if you're looking for the adventure of a lifetime! Filled with remarkable landscapes of all shapes and sizes, it's an outdoor lover's paradise!
Breathtaking mountain scenery, panoramic sunsets, and so much more can be found around every corner.
You could spend years traveling and still find new things to do, see, and explore! Plus, with over 300 days of sunshine a year, you're guaranteed to find outdoor activities all year long.
Let's be honest- that's a lot of ground to cover! To help make things a little easier, we've compiled a list of some of the best must-see attractions in Colorado that are sure to blow your mind, maybe even convince you to buy.
Investing in the right place is more than just about earning a profit; it's about making memories. If you're looking for cheap land for sale in Colorado, you've come to the right place! We'll help match your needs with stunning properties that are perfect for building your home or vacation retreat.
Whether you're looking for your next family vacation destination or planning to whisk your partner away for a romantic getaway, this list has something for everyone and every interest.
So grab your pack, lace up those hiking boots, and prepare yourselves for one unforgettable journey!
Here are 12 must-see Colorado attractions that will make your heart skip a beat with their natural beauty and jaw-dropping views! Which one will you visit first?
1. Garden of the Gods Park
Park
Garden of the Gods is a National Natural Landmark that is considered one of Colorado's most awe-inspiring wild wonders.
Situated in an ancient seabed between two rock formations, it features towering red sandstone rocks and dramatic vistas that make for some incredible hiking trails.
The park also serves as home to more than 300 plant species and is free of charge to visit!
Located close to the popular Colorado Springs, the park is open all year-round (though many will say that fall is one of the best times to visit because of the beautiful displays of changing colors among the foliage).
On top of fantastic views and hiking trails, you can also experience activities like horseback riding and camping under the starry sky. You won't want to miss out on a visit to the Garden of the Gods!
2. Hanging Lake
Hiking Trail & Natural Feature
Hanging Lake Trail is beloved by all outdoor enthusiasts who visit it!
This scenic and unique trail features an unforgettable stop at one of the most beautiful places in all of Colorado: Hanging Lake.
The water here flows down the sides of a stunning hanging garden and into a shimmering lake. If you're looking for a great little hiking trail surrounded by unbelievable natural beauty, this is it!
Located close by Glenwood Springs, this popular destination also happens to be quite easy (and free) to enjoy – perfect both during summer and winter temperatures!
The trail is short, rocky, and a bit steep- a few things to keep in mind when planning your visit. You'll love taking your time exploring the lake's many cascading waterfalls while smelling wildflowers and admiring the snow-capped mountains. Worth the trip!
3. Rocky Mountain National Park
Park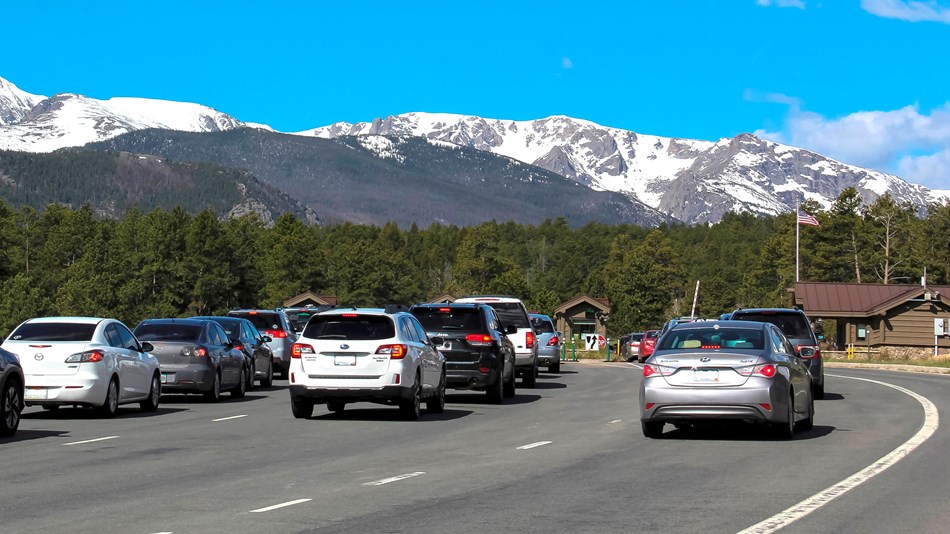 If you're looking for a break from civilization, this is the place to go!
Located near Estes Park and Grand Lake, Rocky Mountain National Park offers epic views in every direction.
With over 360 miles of trails that lead through elk meadows and snow-capped peaks, there's plenty to see here.
If you're up for it, check out one of Rocky Mountain National Park's top attractions- Longs Peak.
This prominent peak stands at 14,259 feet above sea level, so you can't miss it!
The park provides year-round activities with hiking being one huge highlight. Visit during late spring and early summer when the wildflowers are in full bloom- it will take your breath away.
For more outdoor fun, visitors can also enjoy horseback riding, camping, backpacking trips, fishing, picnicking, and wildlife viewing. Rocky Mountain National Park is a great place to grow closer to nature!
4. Breckenridge
Ski Resort
Breckenridge Ski Resort is one of the best places to visit in Colorado during winter, but any time of year will do!
This ski resort offers many different trails and activities for all skill levels.
Plus, it's less than two hours from the Denver International Airport, making it the perfect location for anyone looking to fly in and spend a weekend away in the mountains.
This dreamy mountain town and ski resort is located in Summit County and is the site for tons of events and festivals throughout the year.
From arts and galleries to shops and studios, you'll love wandering historic Main Street in the sweet summer breeze.
It doesn't matter what you're into- there is endless fun to be had here year-round!
5. Great Sand Dunes National Park and Preserve
Park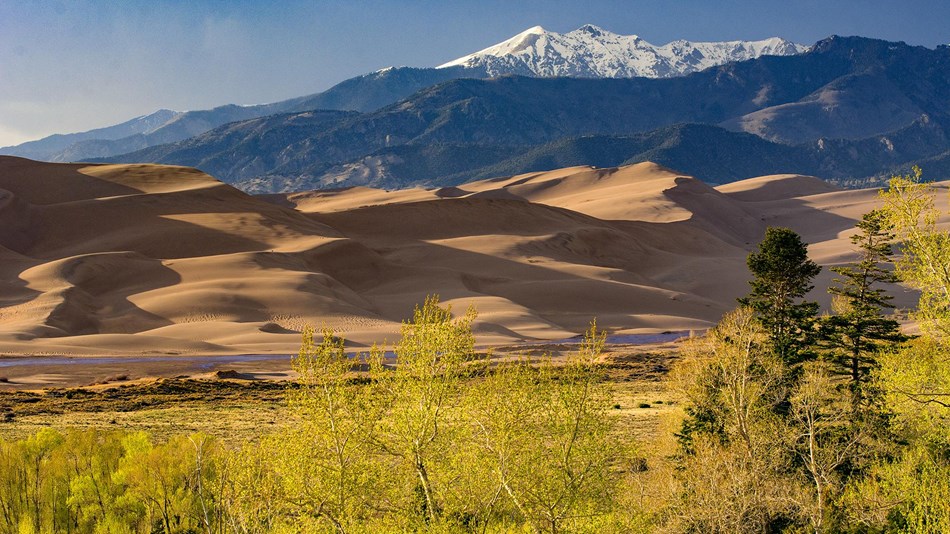 Settled near the city of Alamosa, the Great Sand Dunes National Park and Preserve is full of fun and thrills!
Spend the day surfing the sandy hills or splashing in the cool waters of Medano Creek.
You can also enjoy many of the park trails on horseback, take a scenic four-wheel drive along Medano Pass, or hike to the top of the dunes for some epic views!
Since the Great Sand Dunes National Park is open 24/7 year-round, you can go exploring under the warm sun or the shining moon.
If you get the chance to hang around the dunes until the stars come out, be sure to keep an eye out for the native nightlife. You might even catch a glimpse of the Milky Way!
6. Pikes Peak Cog Railway
Historical Landmark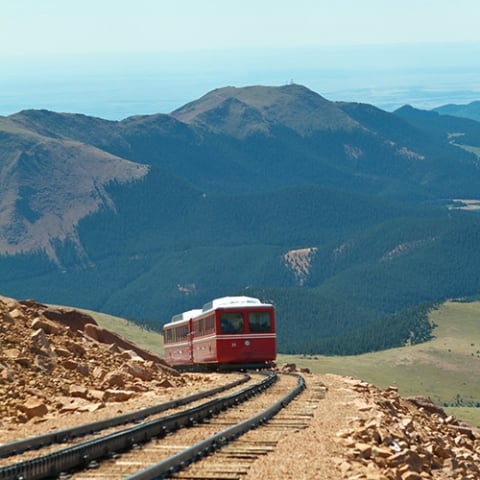 If you're looking for some absolutely breathtaking views, then Pikes Peak Cog Railway is a great place to find them.
The railway has been in operation since 1891 and climbs to a height of 14,115 feet for panoramic views that are nothing short of spectacular!
The train takes on average three hours round-trip and is well worth every minute!
This railway ride provides an excellent opportunity for visitors to see the sights from atop one of America's most notable mountain peaks.
In fact, Pikes Peak is the very place that inspired the song, "America the Beautiful." Take in the sweeping views of Pike National Forest like you've never seen them before!
7. Red Rocks Park and Amphitheatre
Park
Red Rocks Park and Amphitheatre is one of America's most famous outdoor music venues- and for good reason!
The theater was created by Mother Nature herself over a period of 300 million years.
She left behind these magnificent red sandstone rocks to form this natural amphitheater with stunning acoustical properties- perfect for listening to live music!
The Red Rocks Park and Amphitheatre can hold up to 9000 people at once and has played host to some huge names including UB40, Garth Brooks, and the Grateful Dead.
You can also enjoy yoga sessions and explore the many trails throughout the park. It's the best of both worlds- excellent entertainment and excellent views!
8. Denver Museum of Nature and Science
Museum
The Denver Museum of Nature and Science is one of Denver's most popular attractions for people of all ages!
Founded in 1881, this museum is the largest natural and cultural history institution between Chicago and Los Angeles- and it has a lot to offer!
With interactive exhibits like Dinosaurs Around Us that bring fossils back to life for visitors, you'll experience animatronic dinosaurs, hands-on demonstrations, and much more.
You can also visit temporary exhibits such as The Science Behind Pixar Films or perhaps take advantage of one of the astronomy lectures, planetarium shows (with IMAX!), laser light shows…the list goes on!
The Museum isn't just for kids either. Adults will enjoy exploring the Planetarium, attending lectures, and of course, taking in the latest and greatest exhibit!
9. Mesa Verde National Park
Park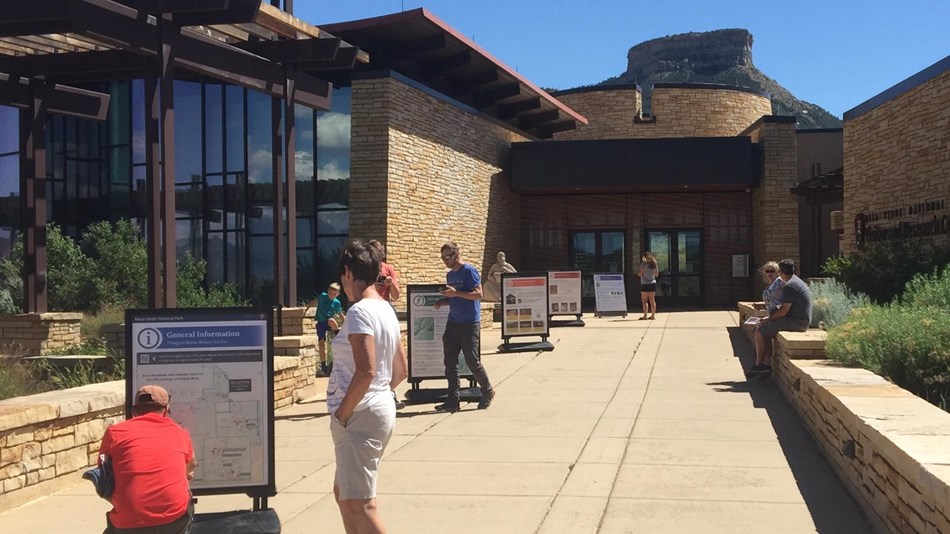 Located near Cortez, Colorado, Mesa Verde National Park is home to some of the most amazing cliff dwellings in North America!
This national park is open year-round and offers breathtaking views from its scenic overlooks or on a horseback ride through the rugged terrain.
The Mesa Verde National Park is without a doubt a must-see attraction with over 600 sites to explore and more being discovered each year!
The archeological site allows visitors to learn about the Ancestral Pueblo people who created these elaborate structures (cliff dwellings), all while viewing the gorgeous scenery all around.
10. Dinosaur National Monument
Historical Landmark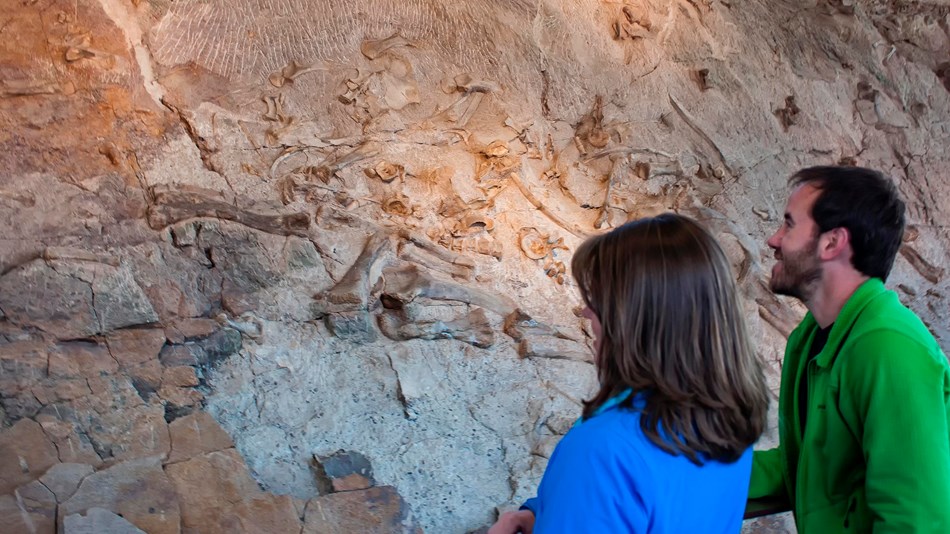 The Dinosaur National Monument will transport you back in time to when dinosaurs roamed the land!
Found along the Colorado-Utah border, the Dinosaur National Monument is home to over 1,500 dinosaur fossils on display.
With plenty to see and many different ways to explore, you'll never be bored!
This national monument is a whopping 210,000 acres of explorable land and has many adventuring opportunities!
It features both the Green River for whitewater rafting and scenic hiking trails along the mountainsides.
The Dinosaur National Monument offers something for everyone- especially families with dinosaur-loving kiddos!
11. Telluride
Ski Resort
If you're craving an adventure-filled vacation with lots to do, Telluride is your place! From skiing the slopes and paragliding through the air to hiking and cycling through the beautiful scenery, there are endless activities available at this resort. With plenty of lodging options as well, you can spend the weekend in a four-star hotel, a cozy mountain cabin, or a tent pitched under the night sky.
Telluride is perfect for any and all occasions! Families wanting to enjoy some outdoor recreation together or couples looking for a little romantic getaway- either way, Telluride is sure to impress. This ski resort offers everything that nature-lovers and outdoor enthusiasts could ask for fresh air, noteworthy views, and unforgettable adventures!
12. Mount Evans Scenic Byway
Natural Feature
Looking for views that are totally out of this world?
Then check out the Mount Evans Scenic Byway! This scenic drive will take you right to the top of the beautiful Mount Evans with an elevation of 14,264 feet above sea level.
You'll enjoy an amazing view of Clear Creek Valley, as well as many other splendid sights along the way including Evergreen Lake and Twin Lakes Reservoir.
On your sky-high adventure, be sure to watch for wildlife and you might spot a bighorn sheep or mountain goat.
Don't miss this incredible opportunity to experience one of Colorado's most scenic routes. Be sure to bring a jacket, sunglasses, and plenty of sunscreen for the journey!
Resources: